"Why are you such an ass?" The words came out before I could think twice.

"Everyone has to excel at something, right?"

"Well, you're doing a great job."
Seriously, the cover made me think a lot before picking this book. The cover for this book really sucks. I honestly think that there could have been a much cooler cover to present that it's such a good story. I know they say that "Don't judge a book by its cover" but it's not going to happen always. I am glad that I pushed away my skepticism of how much the book is going to suck and started reading this book and I am glad I did it because I wouldn't want to miss such a good series! I actually wonder how many passed the story of this book because of the cover. Ok let's get to the story.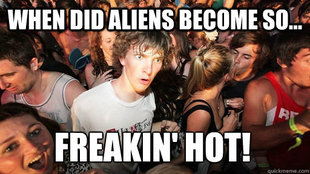 Obsidian is about aliens that are living in Earth. Aliens, who are living among human, look exactly like humans, actually much better than humans. No ears sticking out. They don't have a green body; you could say they look amazing.



"Aliens—if they exist—are little green men with big eyes and spindly arms or…or giant insects or something like a lumpy




little creature." Daemon let out a loud laugh. "ET?"


"Yes! Like ET, asshole. I'm so glad you find this funny."
Katy Swartz, a seventeen year old girl has moved to West Virginia right before her senior year. Everything just sucks for her. She rather be stuck in her room with her laptop doing what she loves and be a boring person. Things start to heat up after she met he next door neighbor, Daemon.
"So the dickhead had a name. Daemon—seemed fitting. And of course his sister would be as attractive as him. Why not? Welcome to West

Virginia, the land of lost models."
Daemon Black is hot but he is arrogant. Irritating. Egoistic and more. When Katy and Daemon meets it's just like a bomb has exploded, it's not love at first sight but hate at first sight. Something unexpectedly happens when a stranger attacks Katy and Daemon saves her. Katy discovers that Daemon Black is an alien and she has to be stuck with him if she wants to live. She has to be stuck with him until she is not glowing anymore. What happens when some you hate has to take care of you?
"In your dreams, Kitten." He smirked. "Oh wait, I'm already starring in those, aren't I?"

I rolled my eyes.

"Nightmares, Daemon. Nightmares."
This book is a 5/5 star book. It was a fast paced book! I absolutely loved the story and the characters. I never thought that I will fall in love with an alien, but the aliens in this novel are just SMOKING HAWWT. Hahaha. I loved the relationship between Daemon and Katy. Although, there was hate and they wanted to strangle each other, when the time came they could help each other and get through the trouble. Katy was such a badass. She was such a strong headed girl. She didn't back down even when Daemon threatened her. Although, she became scared and all she stood up to him. She was a sincere person. Daemon, oh my GOD! He is just a perfect alien. I am swooning just by thinking about him. He is a jackass but he is like that because of the past events. He is sweet in his own way. Very protective and possessive. No matter how arrogant he seems you just love him. But at times I really wanted to smack him for being so mean to Katy. You could see a constant bickering from Daemon and Katy. This book made me laugh a lot and sometimes rage as well.
you will understand this picture after you have read the book.
Cheers!